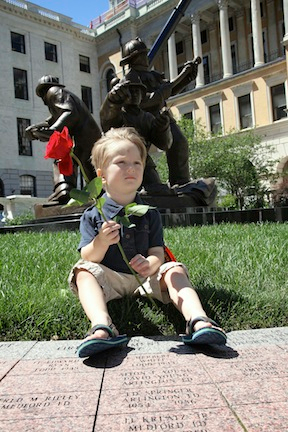 The Ring of Honor that surrounds the Massachusetts Fallen Firefighters Memorial is a place of reflection for firefighters and their families. The Ring of Honor includes the names of deceased firefighters who have served their community proudly and is a small way for all of us to remember their courage and compassion.
Each year the "Honor Roll," those names that have been added to the Ring, is read at the annual ceremony followed by special guests laying a wreath on the Ring of Honor.
Bricks are available to firefighters and their families for the price of $300, which includes engraving. Bricks can be reserved for a firefighter but nothing can be engraved until he or she passes.
To order a Granite Stone ($2,500) or a Platinum Package ($7,000) please contact Melissa Hurley Sullivan at melissa@mafirememorial.org or (888) ASK-FIRE
To download a brick order form, please click here.
To buy brick online, please click here.
Helpful Hints:

Each brick includes up to three lines and 13 characters per line.
Spaces, dashes and periods all count as characters.
Each brick must include the name of the person and the fire department.
No engine or ladder numbers, union numbers or personal verses may be included.
For brick examples, please click here.