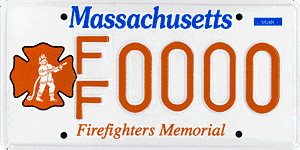 The Massachusetts Fallen Firefighters Memorial license plate is a great way to support the Memorial and the thousands of firefighters throughout the state. For every license plate sold, the Memorial receives $28 of the $40 fee. When drivers renew every two years, the Memorial receives the full $40 from each renewal.
To read about how non-profits have used specialty license plates for fundraising and awareness, please click here.
License Plates can be ordered online or at any Registry of Motor Vehicles branch. Order Online.
Note: You can purchase your Firefighters Memorial license plate at any time during your registration cycle.
There is a $20 plate-swap fee if you change plates before renewal.